BluCentral
An Ecopreneurial marketing Collaborative
BluCentral is a nonprofit EcoPreneurial Marketing Collaborative dedicated to cooperatively marketing common environmental actions, ecopreneurial solutions and new funding development. Our mission is to dramatically increase the profile, funding and impact of the entire environmental movement and the green market — to GEAR UP environmental progress faster and further. Our two principal categories of endeavors are:
BluCentral Ecopreneurial Collaborative
Electric Corridor
SkyTram
National Strategic Product Cooperative
Capture, Clean and Carry and
Mt. Ecos
ONE BluWorld cooperatively Marketing Common Actions
EcoEventsMN.com — ONE event/organizational directory site
Best of Blu — YouTube BluCentral Channel, a common media network
EdayVoteMN.com — ONE online forum
Ad & media campaign — ONE cooperative campaign
Give Green Days — Common, dedicated funding mechanism
2018 & 2019 Earth Day "shows" and
2020 Earth Day global event
ONE BluWorld detailed information
It is not enough to have facts of science on our side, moral imperative, or even vastly superior numbers of supportive people on the planet. Please consider where we are and where we need to be. Join us in collaborative support of these impactful, common actions at BluCentral@comcast.net.
Where Can We Get To — IF We Cooperatively Raise The Profile,
Funding & Impact Of Our Movement?
Only the power of cooperatively marketing collaborative-common acts, coupled with ecopreneurial funding, can drive the profile we must achieve to dramatically increase public engagement, critical long-term funding, product solutions sales, AND the resultant impact our environment desperately needs.
Ecoprenuerial Collaborative
National Strategic Product Cooperative ~ Electric Corridor ~ SkyTram ~ Capture, Clean and Carry ~ Mt. Ecos ~ Research & Development
National Strategic Product Cooperative
The strategic economic needs of the nation and globe, particularly with regard to energy efficiency, alternative energy development and investment in strategic green product development, is not going to happen fast enough, or perhaps at all, without a national strategic product development initiative.
As a highly public example: Back in 2010 President Obama called for 1 million hybrid/electric vehicles by 2015. However, the economic reality to meet that goal meant that these vehicles would have had to be mass produced at a much cheaper cost and thus much cheaper sales price (under $20,000) than current models. The same reality in 2017 means this can only happen if these vehicles are (1) standardized; (2) mass produced due to mass purchase advance orders (investment); (3) built with guaranteed cooperative labor arrangements; and (4) likely produced without profit-model manufacturers, hence the cooperative business structure. If we do not cooperatively act now, China or India will flood our markets soon with standardized models well under $20,000........
Electric Corridor
The Electric Corridor (powered by the Electric Transport System) is the next great American infrastructure - a commodities, light freight, water, electricity and electric/hybrid vehicle conveyance system.
Look down the middle, then up, and you will see the future – yes, just like in the movies.
ETS is the 21st century answer to not only reducing congestion, but also vehicle numbers and pollution. It is also a system for national water distribution (draught reduction and flood control), small freight transport (eliminating billions of airline and truck fuel), distribution from local electric power production, emergency road response and injury transport, hybrid/electric vehicle conveyance. It is also a linear greenhouse for pollution control from the roadways below. And, the economic basis for it to work is a new economies of scale achieved the National Strategic Product Cooperative.
Electric Corridor Images Above
Minnesota Map
Electric Corridor System
Skytram
Skytram is the model system for the Electric Transport System (ETS) and the Electric Corridor. The version described in the images above and the package linked below is designed for downtown Minneapolis, somewhat simply envisioned as an advanced skyway, with guided, automated electric vehicles. There is no transit connection around and through downtown Minneapolis, aside from the LRT line through the center from East to West, that directly connect the US Bank Vikings stadium, the convention center, the Target Center and St. Anthony Main. It is a transit system, a tourism attraction AND a green system showcase.
Skytram Images Above
Schematic
Downtown Map
Downtown Overlay
Capture, Clean & Carry
Capture, Clean and Carry is a plan and system to capture excess flood and rain water, clean it and carry it (distribute) around the state. It simply no longer makes any sense to have excess water in one area and not enough in another. The document attached was developed during the last severe drought period of 2014. Those drought and excess water scenarios are never going to go away.
Capture, Clean & Carry
Images Above
River & Flood Control Systems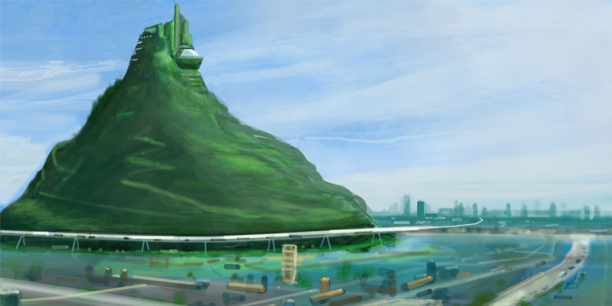 Mt. Ecos
Imagine Mt. Ecos or rather "Disney North" as the most advanced environmental complex in the world, an actual mountain with a building inside it, and built entirely with recycled materials.
Research & Development Projects
What's next?! A collective bid organization for the State of Minnesota and BluCentral region, microgrid power plants, solar towers, multiple technology renewable energy power plants, "closed loop" mirco burn units/plants..... The driver(s) for the BluCentral Ecopreneurial Collaborative are the best of new and evolved existing technology concepts. A total green 3M?! We CAN build it here!
ONE BluWorld's current print packet (link below) has four elements: A) The Cooperative Media and Ad Campaign, B) The Best of Green Online Election Day (now called EdayVote), C) Give Green Day and D) The 2020 Earth Day global event. Soon we will add detailed descriptions of other elements such as the EcoEventsMn calendar and Best of Blu YouTube channel.
Eco Events and Organizations
There are so many great organizations and events going on in the environmental movement in Minnesota that we created a ubiquitous common site for everyone to promote and go to - EcoEventsMN.com .Event logos above are samples of major events around Earth Day 2017.
Best of Blu - A YouTube Channel and common media outlet for the environment
A showcase of the best of environmental clips, intended to reach out, educate and inspire action to help our Blu Planet. Send us something as good or better! - to BluCentral@comcast.net
EdayVoteMN.com
Now you can vote on the many issues facing our planet and who will be leading the charge on those challenges. For 2017 Earth Day we launched EdayVoteMN as an initial test and will now build it toward Earth Day 2018. But you can keep voting any day
Ad & Media Campaign
There is a critical mass now of environmental organizations, green products and companies and educated consumers who will spend more for healthier choices. We will merge these 3 sectors into ONE common media and ad campaign the month before each Earth Day to raise the profile and impact of the total green market. LEARN MORE...
Give Green Days
To compete effectively with the "opposition" to green progress or just compete with the existing economic competition to the green market, we need to raise more funds from more people and green businesses, AND we must support more green market initiatives. So we are developing Give Green Days, a funding platform just for the environment and green market.
Earth Day Shows/2020 Event
Maximizing Earth Day as the powerful marketing tool it can be every year—but hasn't been since Earth Day 1990, needs to begin now as we drive toward 2020 Earth Day, the 50th anniversary and a certain global media event. We need to cooperatively begin planning for a 2018 model that builds that orchestration. In Minnesota, we are planning a pre-Earth Day environmental convention in March to kick-off the 2018 profile for Earth Day and the weeks leading up to it.
Give Green Days is dedicated to raising funds to support the environment movement, organizations and projects. It is also.the official fund raising mechanism for BluCentral's environmental marketing and ecopreneurial projects,
Northland Sustainable Solutions, a federally registered 501c3 non-profit, is the fiscal sponsor for BluCentral. This allows all donations to BluCentral to be tax deductible.